Interview with Tomoo Hamada,
a Japanese potter in MashikoTown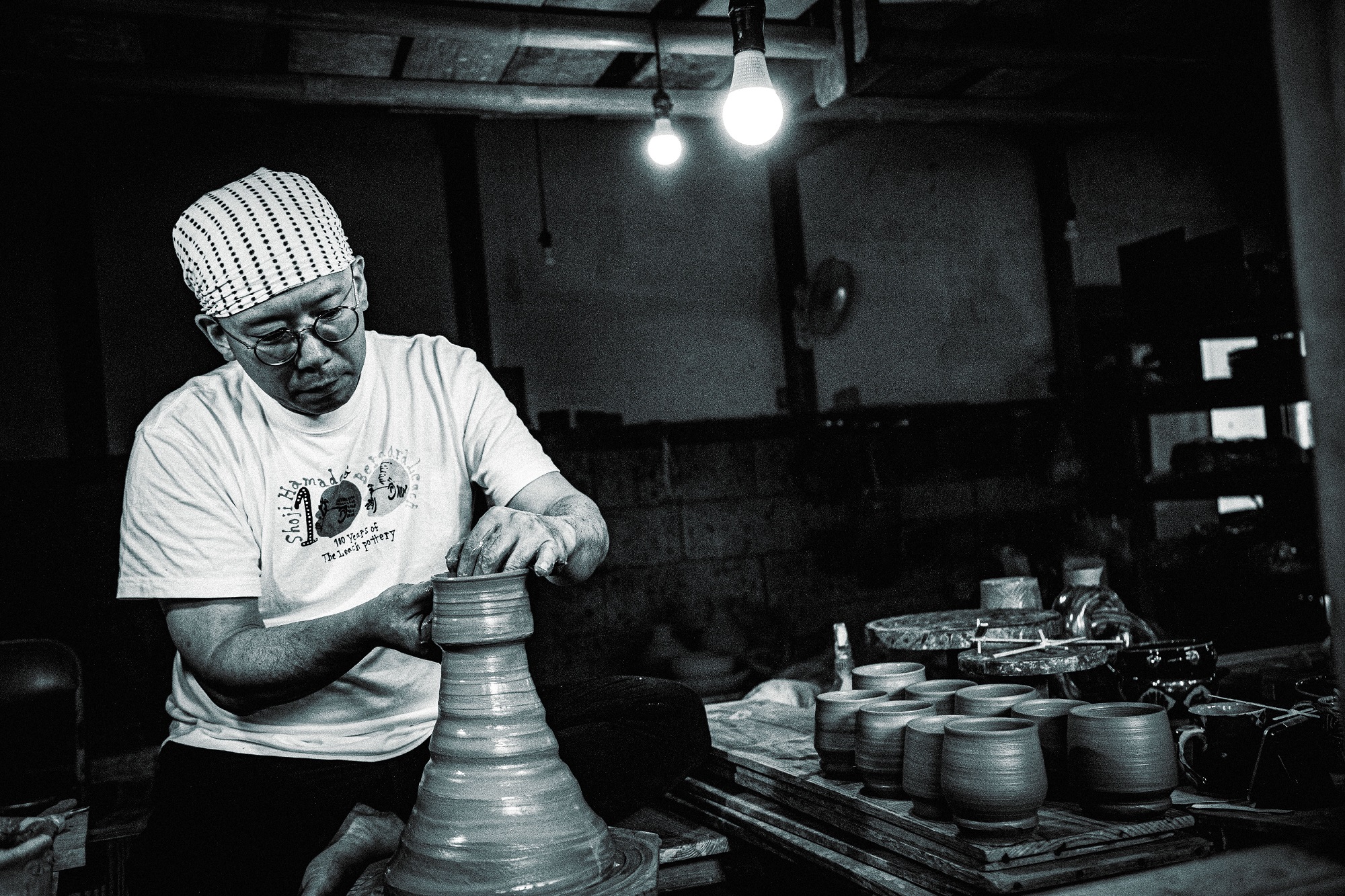 Tomo Hamada is the grandson of Shoji Hamada, a national living treasure of Japan who had elevated the value of Japanese folk crafts such as pottery.
Even today, Tomo Hamada does not utilize any automation when crafting pottery, choosing instead to rely on his century-old handcrafting techniques. The pottery crafted by Hamada is now being sold in design-centric stores in Tokyo, and we have taken this opportunity to speak to him about the unique appeal of Mashiko ware.
Crafted using century-old handcrafting techniques,
the rustic warmth of Mashiko ware continues to captivate countless people.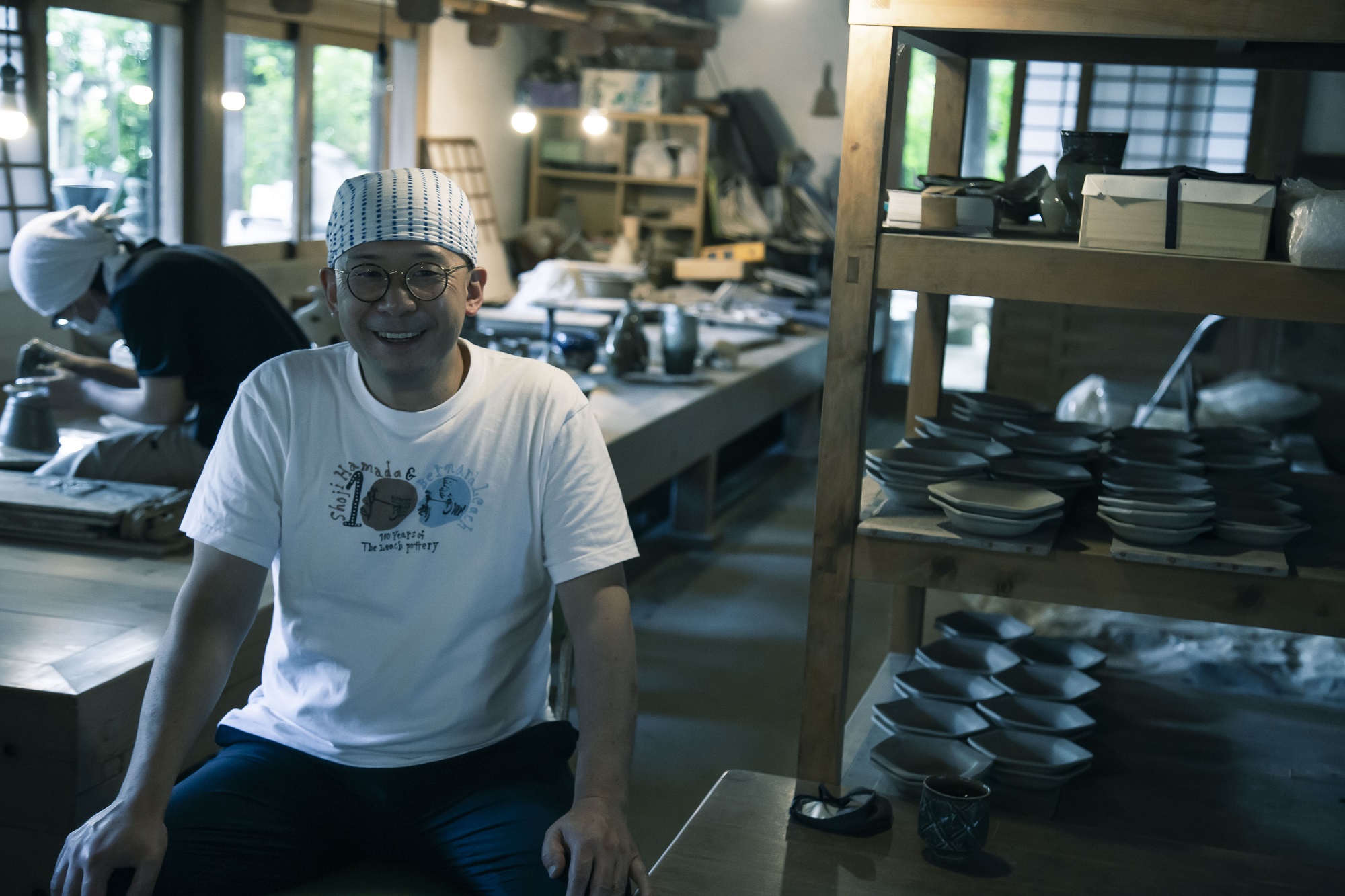 ―――It seems like your pottery is now being sold not just in the retail stores of Mashiko, but also in design-centric stores frequented by young people. Is there anything you pay attention to in particular when making Mashiko ware?
Hamada: One thing I do is that I perform every step of the process by hand. This would have been the norm 100 years ago, but even today, I still use a "kick wheel" and "climbing kiln" for my pottery. A kick wheel is rotated manually with one's feet and not electrically powered. The climbing kiln consists of five rooms lined up on the slope of the hill, and when the lower room is fired, the flames and heat will travel up the slope and cause the next room to be fired through the residual heat. There are actually many easier methods available these days, so people who wish to go for something more hassle-free do have options. My style is a little old-fashioned, but I hope to protect what I think is worth protecting.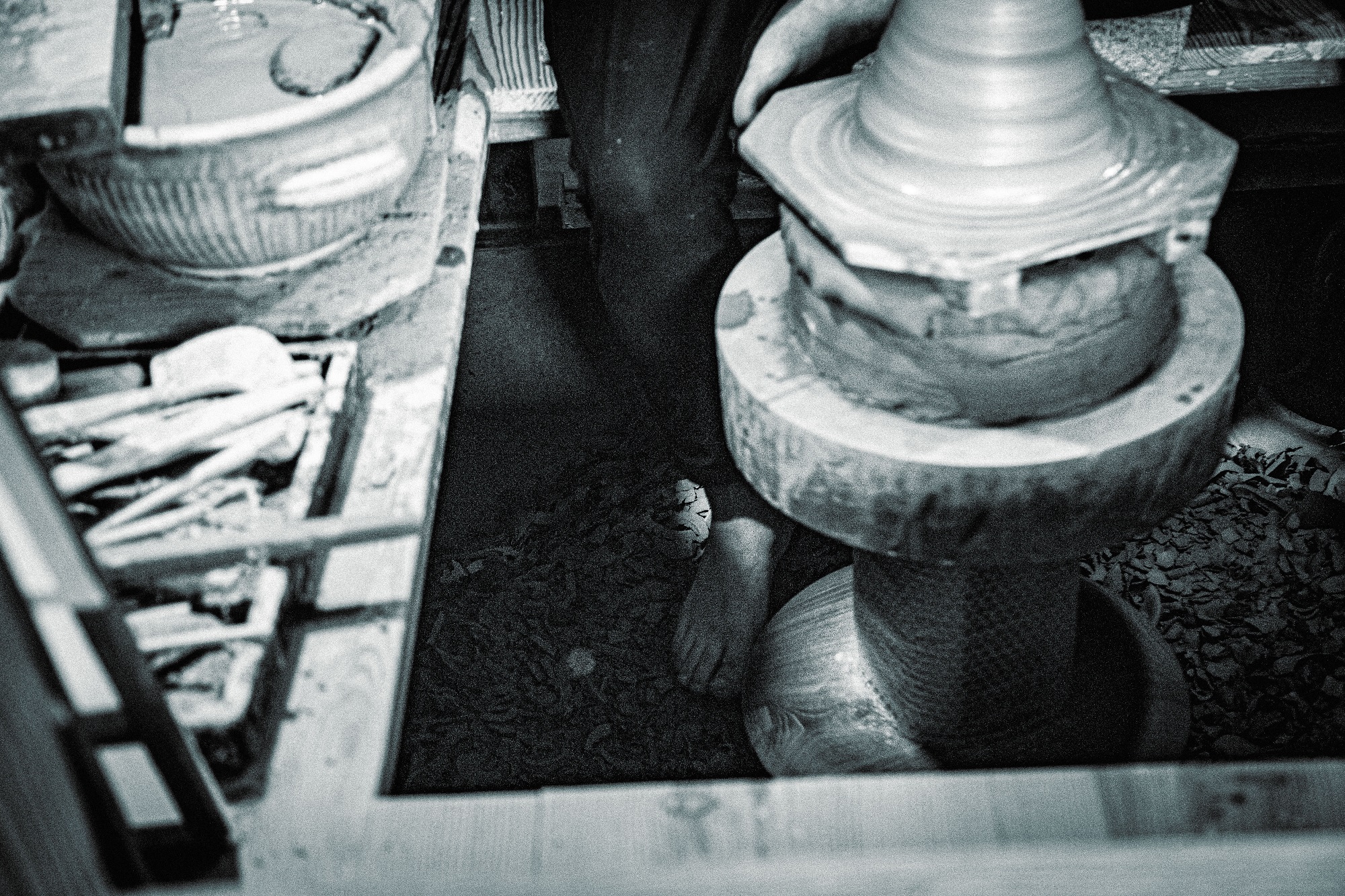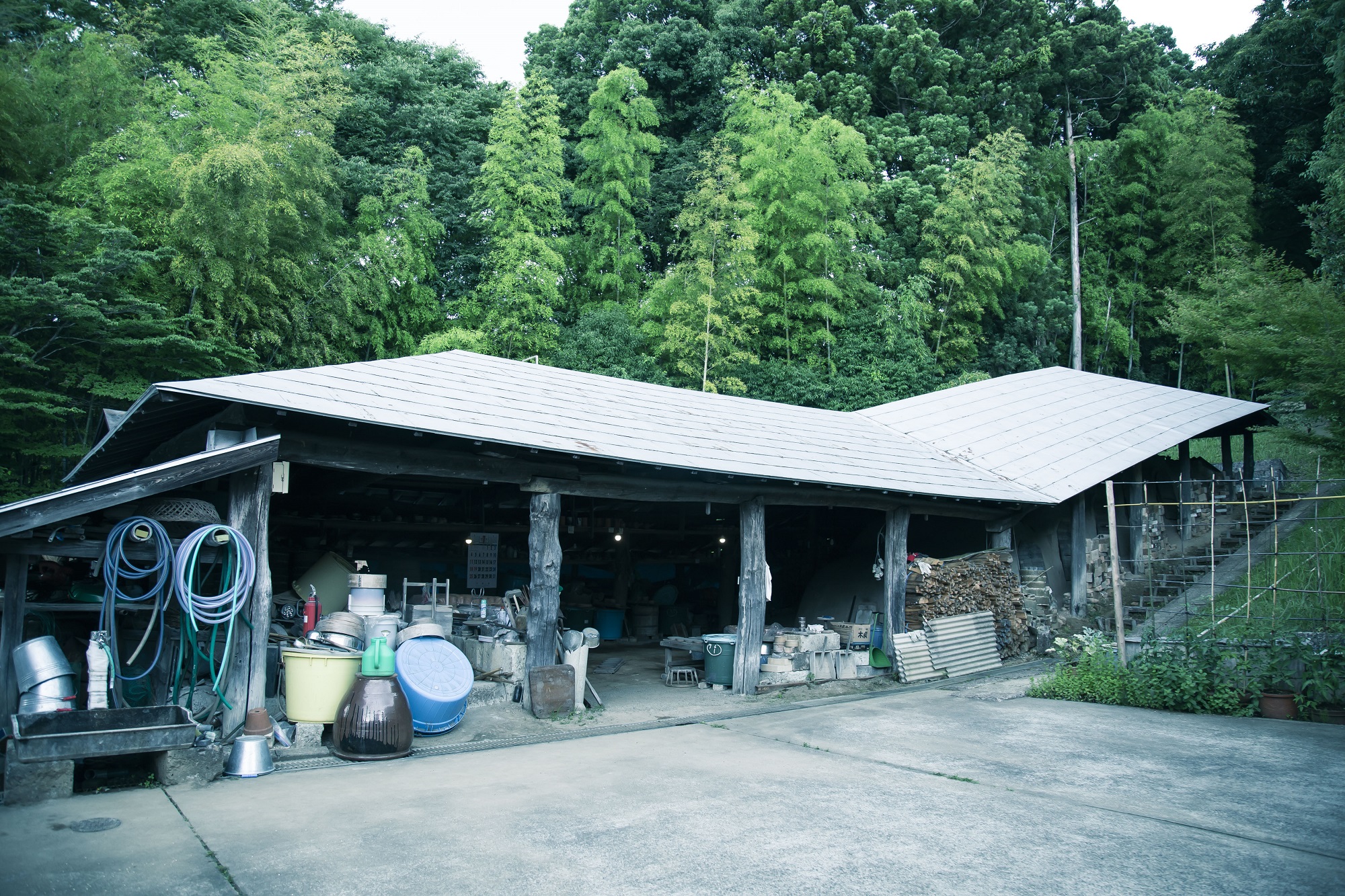 ―――It is indeed rare to find a potter who still uses a kick wheel these days. Are there any differences between the final products made using a kick wheel and an electric potter's wheel?
Hamada: The electric wheel is controlled with a lever using one's hand or foot and has a constant rate of rotation, but the kick wheel rotates in a more natural manner. For instance, once you give the kick wheel a kick, its inertia keeps it moving, and you can kick it again to accelerate its rotation This gives the potter more control over its speed. The kick wheel's natural speed adds a soft touch to the final product. Some young people are fascinated by the kick wheel, and there are also those who had learned how to use the electric wheel previously and are now picking up the kick wheel from scratch. However, it is difficult to install a new kick wheel in your own workshop. The base has to be made from sturdy Japanese zelkova wood, while the floor must be reinforced with concrete. Because of this, I think using an electric wheel is more practical.
―――I see. I now understand why pottery crafted using a kick wheel is more valuable. Mashiko ware is famous in Japan, but how did it become so famous?
Hamada: Mashiko ware is said to have been invented in the late Edo period, but it only really started flourishing in the Meiji period. At first, people were making things that sell well, such as Shigaraki ware in Shiga Prefecture and Seto ware in Aichi Prefecture. Mashiko was also crafting pottery considered to be commercially viable, something that remains true today.
However, as time went on, water jars were replaced by the waterworks, and miso was sold as such without the soybeans having to be ground with a mortar and pestle. Kettles replaced earthen teapots as well. In other words, the necessity of pottery became diminished, and in the end, pottery stopped selling throughout Japan.
It was under these circumstances that Shoji Hamada arrived in Mashiko around 1930. He was someone with many creative ideas, and he created pottery with great artistry. When a potter said that he could not sell his pottery, others would point him to Hamada's works, which were doing well. This led to many potters imitating Shoji's style by creating vases and using ladles to apply glaze to the clay. Some potters also launched their individual career as a ceramic artist under their own name.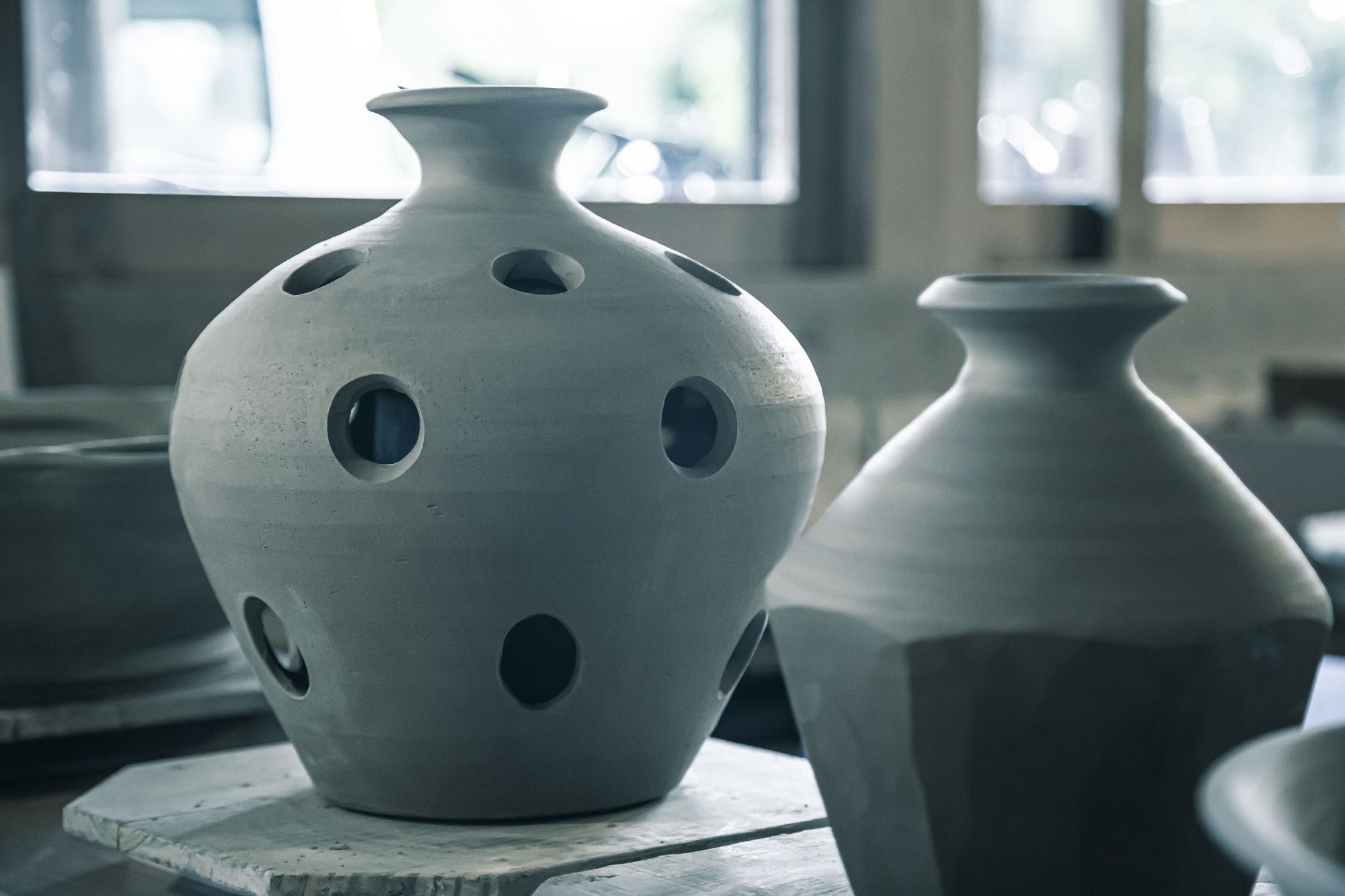 ―――In other words, Shoji Hamada-sensei transformed the prevailing attitudes toward pottery at that time. He was also famous for launching the folk craft movement.
Hamada: Yes, he was. The folk craft movement elevated the value of not only pottery but other kinds of handcrafted folk art as well. Let me elaborate a little on the folk craft movement. During the period of rapid economic growth in Japan (1955-1973), factories began to be set up all around the country as pottery and other products started to be mass-produced. As more and more craftsmen were hired by these factories, few of them remained in their workshops to craft items by hand. If this situation had continued, the traditional crafts unique to each region would have vanished. There was a wave of Americanization in Japan around the time of World War II (1939-1945), and people began to consider the simple handicraft produced in the countryside as something to be ashamed of. This prompted Shoji Hamada, Yanagi Soetsu, and Kanjiro Kawai to launch a movement where they went around Japan and advocated the idea that traditional folk crafts from the past were wonderful and invaluable. They wanted to demonstrate their value to as many people as possible and encouraged them to continue producing folk crafts with confidence. This movement imbued handmade folk crafts with significant value, which allowed them to survive. Today, Japanese handmade goods are attracting significant attention worldwide, and their success is due in large part to this folk craft movement, which shone a light on them.
―――The folk craft movement launched by Shoji Hamada-sensei and others had a huge impact on pottery, indeed. However, it is also notable that Shoji Hamada-sensei had come from a different place and made items that the locals had a hard time understanding at first. How did he come to be accepted in Mashiko?
Hamada: It was easier for outsiders to come to Mashiko because the traditions and rules here were not as unforgiving. I believe around 80% of the potters who are active here today are second or third-generation potters whose predecessors came from outside Mashiko. The down-to-earth culture here also encourages the production of unpretentious works with a rustic quality. In that sense, I think people who are attracted to the simplicity of rural life are drawn to Mashiko. There are some potters currently active in the nearby Kasama ware production area who were trained in Mashiko but who had moved there because they enjoy making modern pottery. Conversely, many of those who enjoy the mountains and the warm earth have relocated from Kasama to Mashiko, so I think the warmth of Mashiko ware also reflects the disposition of the potters who have settled in Mashiko.
―――Finally, what are your hopes in terms of the future prospects of Mashiko ware?
Hamada: Ideally, it would be great if the number of potters and retailers does not decline. I am actually more worried about the retailers than the potters. There are more and more retail shops along Jonai-zaka, the main street for ceramic stores in Mashiko, that lack successors and whose owners are getting older, which does not bode well for their future. I think it would also be easier for potters to lead a more comfortable life if their handmade teacups can be sold for around 3,500 yen. Currently, they are being sold for 2,500 yen, but the potters are barely making ends meet at this price. Handmade ceramics and handcrafted goods are highly valued overseas and are sold at three to four times the prices of those in Japan.
This also means that if you buy ceramics in Mashiko the next time you are in Japan on a trip, you will be able to get handmade items at lower prices. (laughs)
It is vital for us to do everything we can to maintain and improve the quality of handcrafted and handmade products, and to enhance the value of the brands themselves.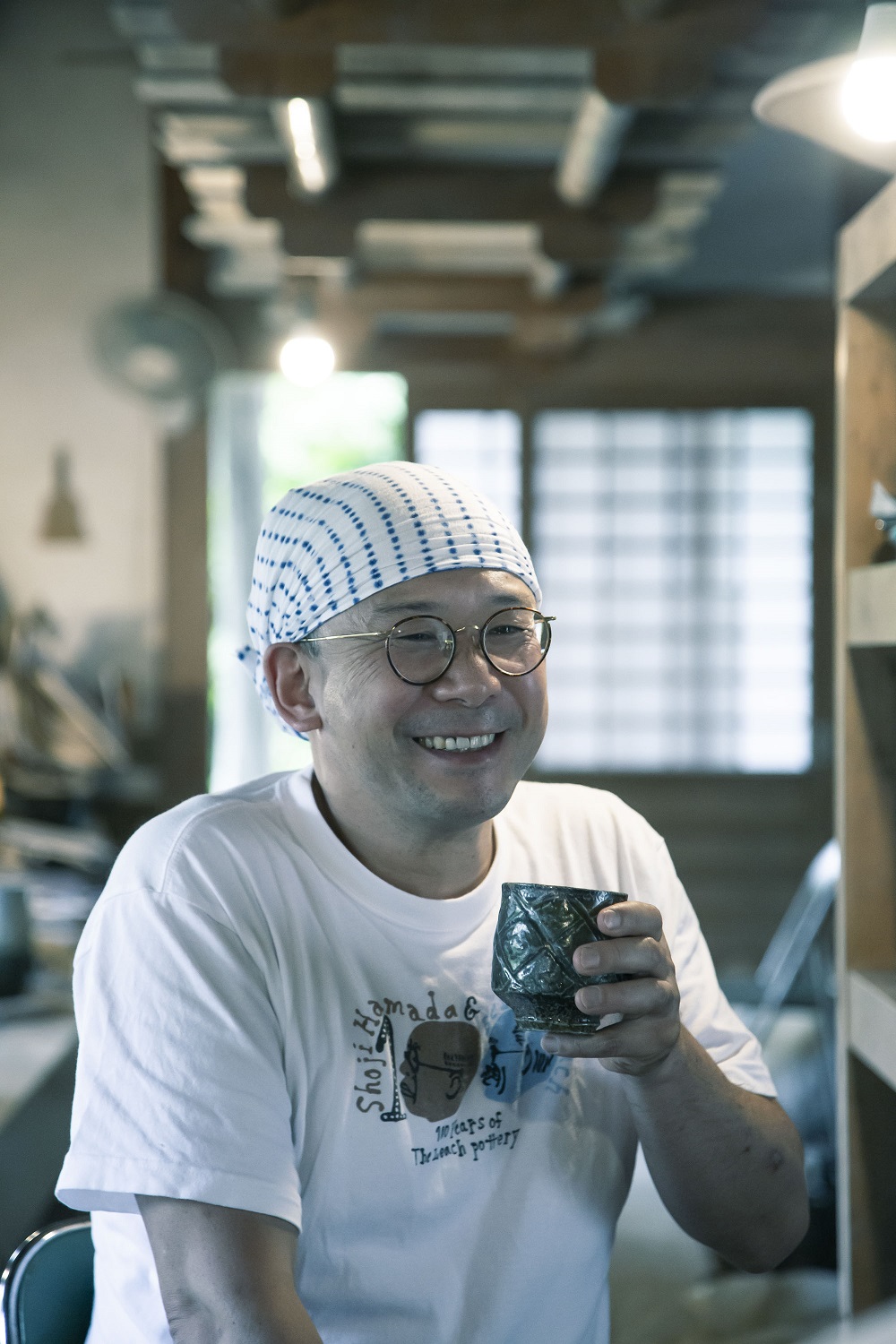 Profile
1967: Born in Mashiko-machi, Tochigi, as the son of Shinsaku Hamada and the grandson of Shoji Hamada
Started working with clay from a young age in the workshop of Shoji and Shinsaku at Hamada Kiln
1989: Graduated from the Department of Sculpture at Tama Art University
1991: Graduated from the Graduate Research Program in Sculpture at Tama Art University
1995: Traveled to England as a member of a delegation from Mashiko and visited St Ives, Darlington, and London. He was warmly welcomed in many places and successfully restored the cultural exchange which had ceased after the death of Shoji Hamada and Bernard Leach.
2001: Held his first solo exhibition at Mitsukoshi in Nihonbashi, which has been held biennially ever since
2005: Held the exhibition "The Hamada Kiln over three generations in Mashiko: Shoji, Shinsaku, and Tomo" at the Asahi Beer Oyamazaki Villa Museum of Art
2007: Participated in the exhibition "The genealogy of the Hamadas" at the Mashiko Museum of Ceramic Art
Held the exhibition "The Hamada Kiln over three generations: Shoji, Shinsaku, and Tomo—The art of ceramics" at Mitsukoshi in Nihonbashi, Sendai, and Sakae in Nagoya.
2008: Appointed as the third-generation representative of the Hamada Kiln
2009: Held the exhibition "The Hamada Kiln over three generations" at the Pucker Gallery in Boston, which has been held biennially ever since
Gave lectures and pottery demonstrations at Harvard University, etc.
2011: Held the exhibition "Commemorating the 80th anniversary of the Hamada Kiln: The Hamada family over three generations" at Mitsukoshi in Osaka
2012: Participated in the exhibition "Mashiko ware at the Tokyo Institute of Technology" at the Tokyo Institute of Technology, the alma mater of Shoji Hamada
Participated in the exhibition "Recovering the Mashiko Potters" at the Tokyo American Club
Appointed as Director of the Shoji Hamada Memorial Mashiko Sankokan Museum, and devoted himself to the reconstruction of the Mashiko Sankokan Museum and the Hamada Kiln, which were damaged during the Great East Japan Earthquake
2013: Reconstructed the Mashiko Sankokan Museum with the help of many donations
2014: Set up 11 LOEWE-inspired vases and other vases produced over three generations at the Hamada Kiln at Casa LOEWE Omotesando in Omotesando
2018: Held a second "Shoji Hamada Climbing Kiln Revival Project," where 87 potters from Mashiko and Kasama fired the climbing kiln at the Mashiko Sankokan Museum
2019: Appointed as the representative of MASHIKO Product and became involved in production for the Mashiko ware brand "BOTE & SUTTO" under the design supervision of Naoto Fukusawa
2021: Held the "Mashiko×St Ives 100th-anniversary festival" in Mashiko to commemorate the 100th anniversary of The Leach Pottery and served as chairperson of the organizing committee
Held the exhibition "90 years of the Hamada Kiln: Bernard Leach and the Hamada Kiln over three generations" at Mitsukoshi of Nihonbashi
Tomo Hamada continues to hold exhibitions, lectures, and ceramic workshops at museums, universities, pottery organizations, galleries, embassies, and department stores throughout Japan and around the world.
Locations where Hamada's major works are collected
Mashiko Museum of Ceramic Art, Tochigi Prefectural Museum of Fine Arts, Setagaya Museum, LOEWE, Asahi Beer Oyamazaki Villa Museum of Art, Ditchling Museum, Lanswood Museum, Museum of Fine Arts in Boston, Victoria and Albert Museum, New Orleans Museum of Art, Asian Art Museum of San Francisco, New Hampshire Institute of Art, Keramikmuseum Westerwald, Kaze to Midori no Nintei Kodomoen, Mashiko Town Office, Moka City Hall, Moka High School, Oyama High School, Sano Toseki Art Museum, St Ives School, etc.
For inquiries to potters, please contact the following email address  

For inquiries to artists, please contact the following email address