Artist Interview - Yasuko Kato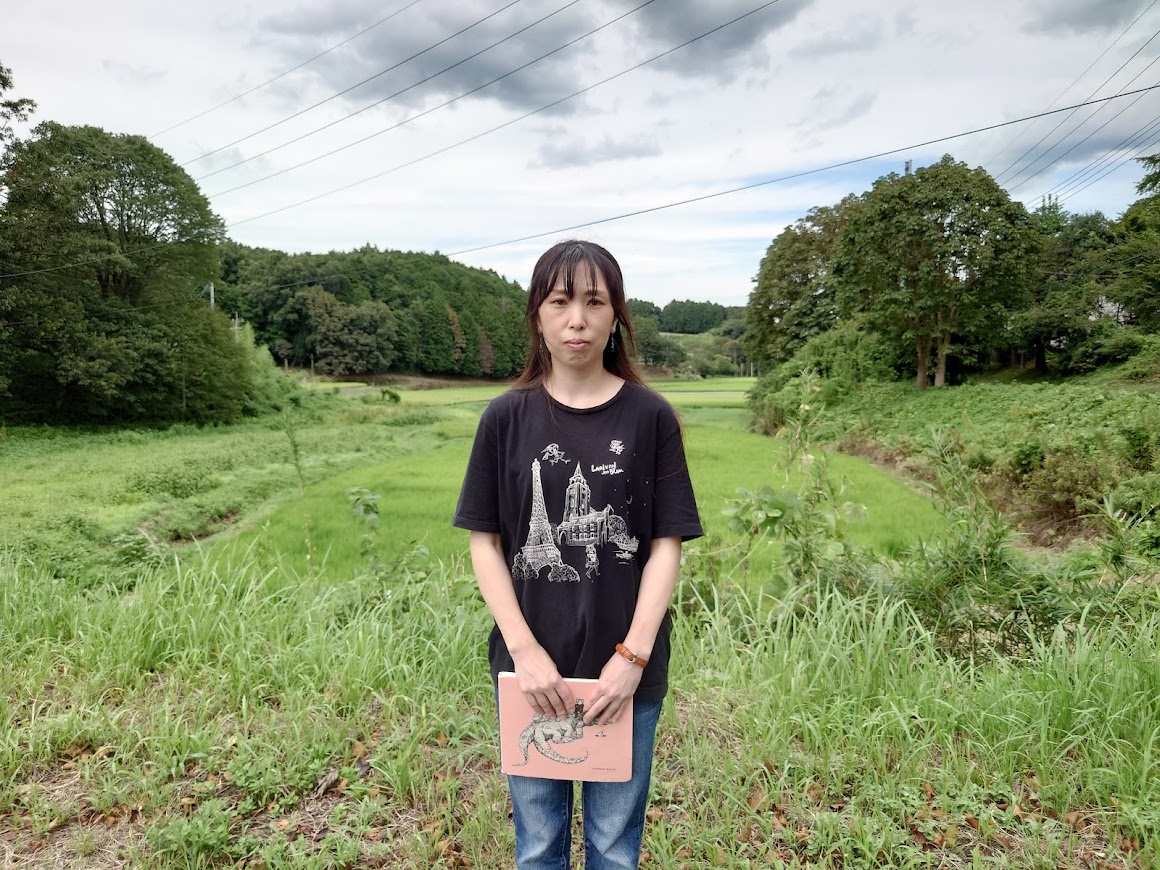 Red, green, purple, yellow… Insects, fish, cats, and iguanas - bursting with vivid colors.
The artist Yasuko Kato, who lives in Mashiko, draws humorous and colorful pictures of creatures that bring out a smile as soon as you see them.
Everything is drawn with colored pencils.
We interviewed Yasuko Kato, whose works have been well received at each of her solo exhibitions,about her work and her opinion on Mashiko.
Drawings of unique beings, seemingly about to jump out of their canvas.
Their origin - the nature of Mashiko, the artist's birthplace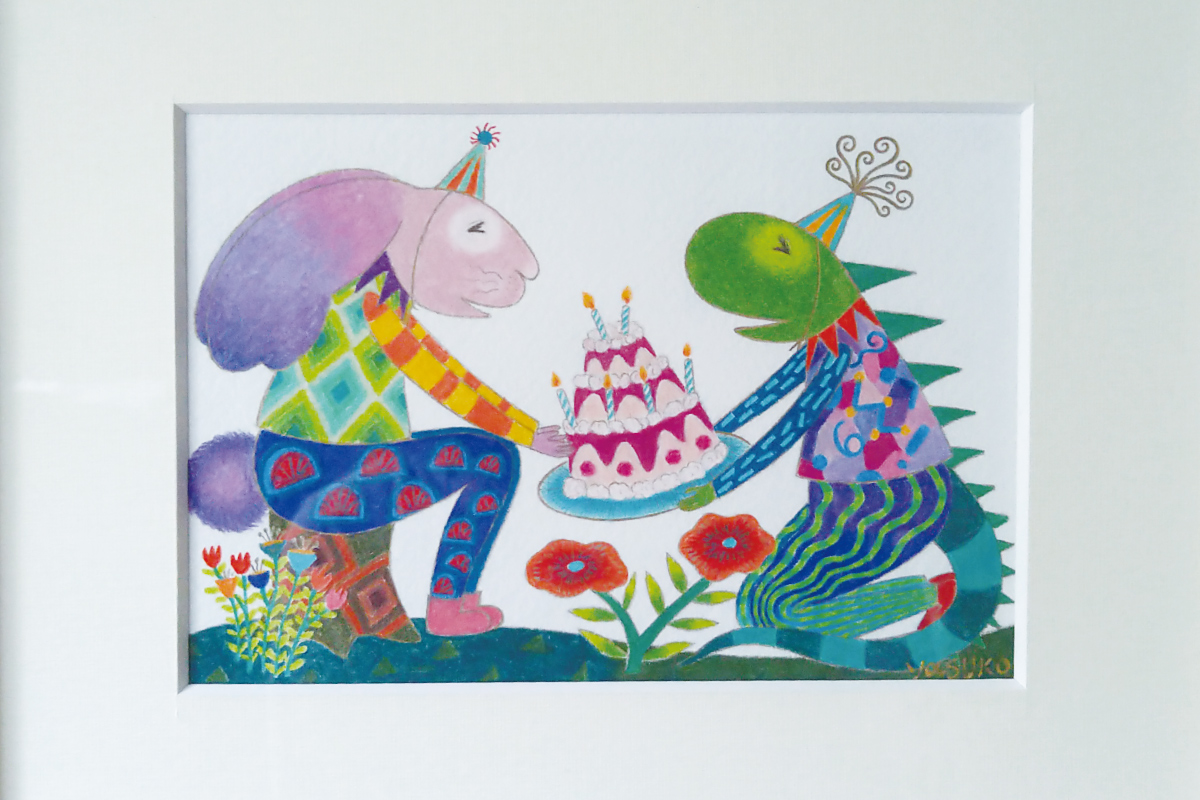 Your works are brimming with motifs of living beings. What led you to start creating works like these?
Yasuko : In my case, I didn't start drawing creatures because I explicitly decided to, but rather because it just came so naturally to me. I draw from my imagination based on my favorite living beings.
I was born and raised in Mashiko and have lived in the town all my life, except for a few years when I went to university. Until I was in high school, I lived in an area that was a little far away from the town center, surrounded by rich nature. I spent my days fishing and catching bugs.
I especially love insects. Their colors and patterns are beautiful. People usually worry about them, but insects are silent and meek. I believe insects are a significant influence on my work. Even now, I often take walks in my parents' yard and neighborhood to observe insects.Also, iguanas often appear in my works, which I attribute to the iguana I had as a child. I had her for 13 years, but she died a few years ago. Iguanas' eyes are like dinosaurs - emotionless but very striking. Even if I'm drawing other creatures, sometimes the eyes end up being that of an iguana.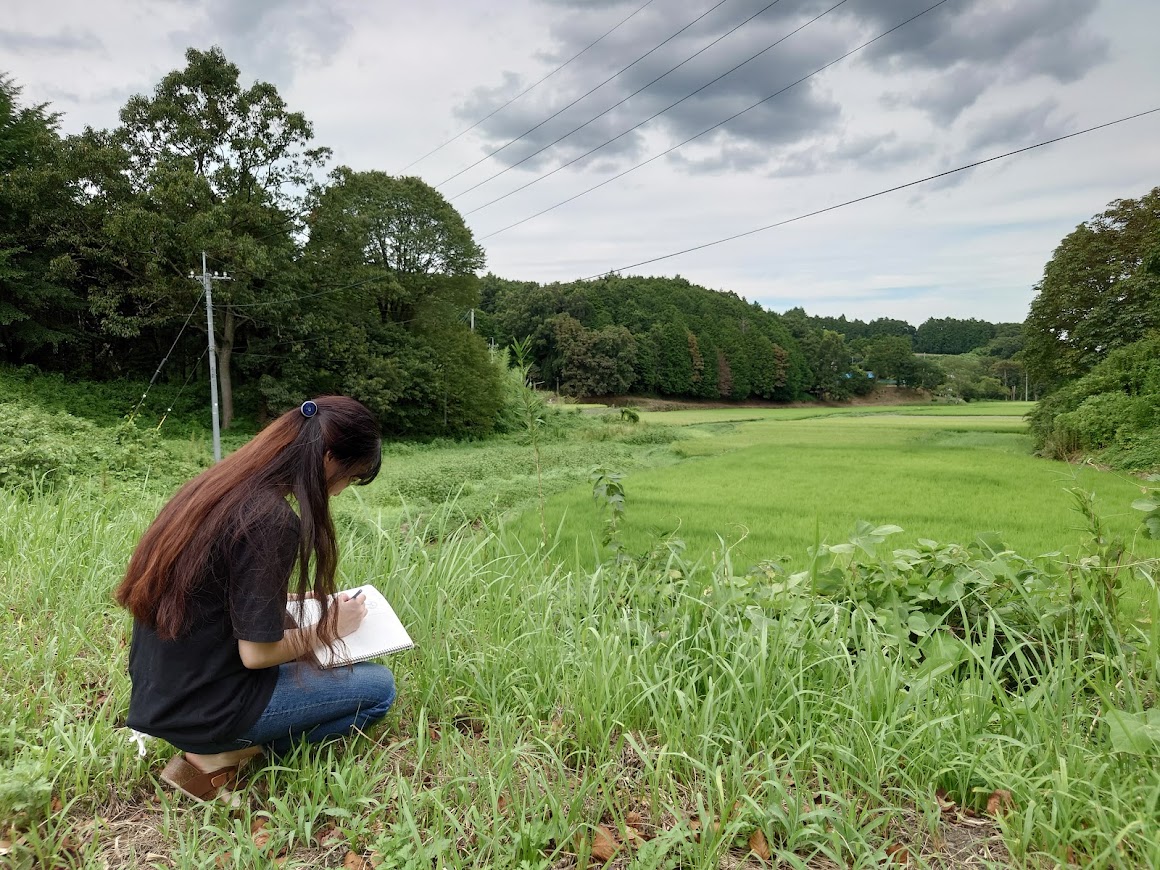 Your parents are potters, and your grandfather is a painter and a potter, so you come from a family of artists. Was it your family's influence that made you start painting?
Yasuko: My grandfather was an artist in Tokyo, but he liked Mashiko so much that he moved here and made pottery. He always carried a sketchbook on him, and whenever something would catch his eye, he'd immediately sketch it. When my parents were away for exhibitions, I was at my grandparents' house, so I watched my grandfather draw. He was a man of few words, and he never taught me how to draw. However, I still came to love drawing, so I joined the art club in junior high and high school and went to an art college in Utsunomiya City in the Tochigi Prefecture. Instead of becoming a potter, my grandfather probably influenced me more to become a drawer.
There were many unique people at the art university, and there I felt safe to express my individuality. This made me feel comfortable and inspired me in many ways.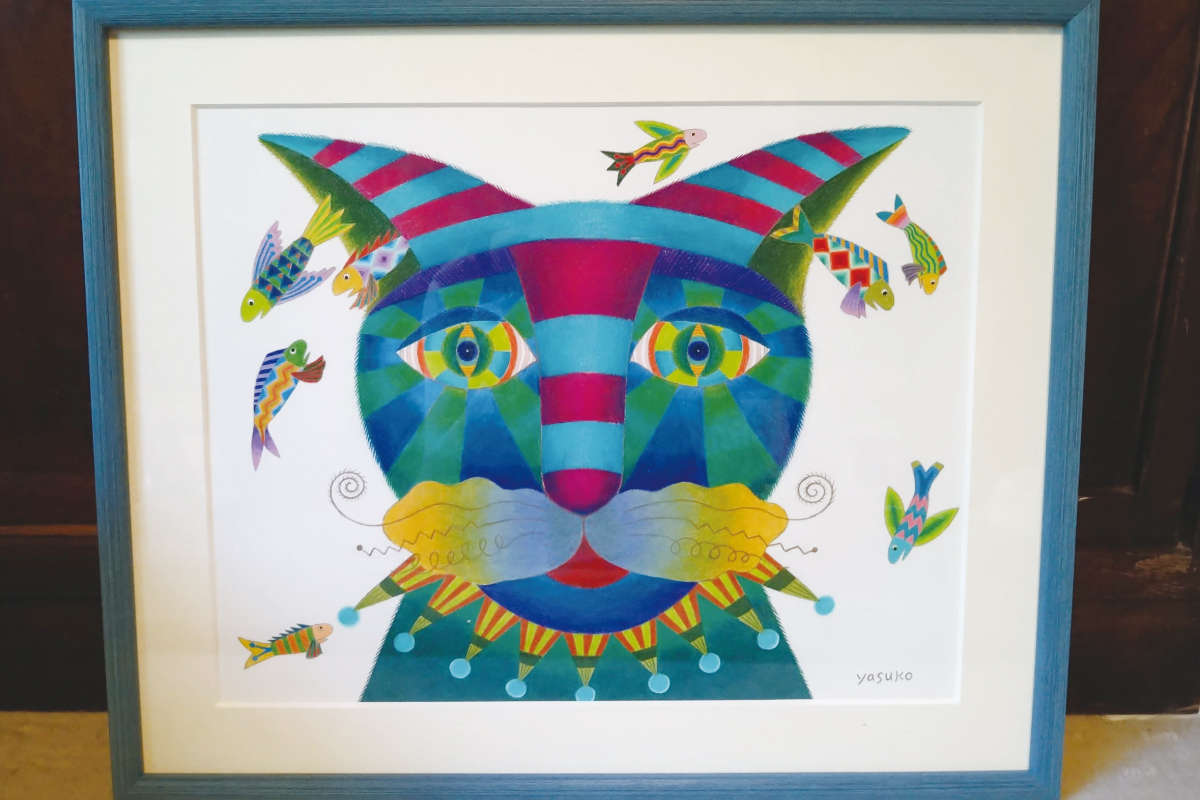 The vivid colors in your works are from colored pencils, right?How did you start using colored pencils?
Yasuko: I majored in Nihonga (Japanese-style paintings) in college. During the period of Nihonga, natural mineral pigments called "iwa-enogu" were used to create paintings. However, people have been drawing the same kind of works since then. My teacher was angry because my pieces would not look like those from the Nihonga period (laughs).
After graduation, I continued drawing in order to become an artist, but iwa-enogu was very expensive and not easy to use. That's why I started using colored pencils. Colored pencils are usually thought of as hard and rough, but those with a high oil content are soft like crayons and can produce excellent colors. In addition, I seem to have a habit of drawing with a bit of force, which results in works that are colored this way.
When I was drawing with iwa-enogu paints, my drawings were much darker. Colored pencils, however, made my drawings much more vivid and bright. Compared to oil or acrylic paints, they create a picture-book feeling that seems to suit my way of drawing.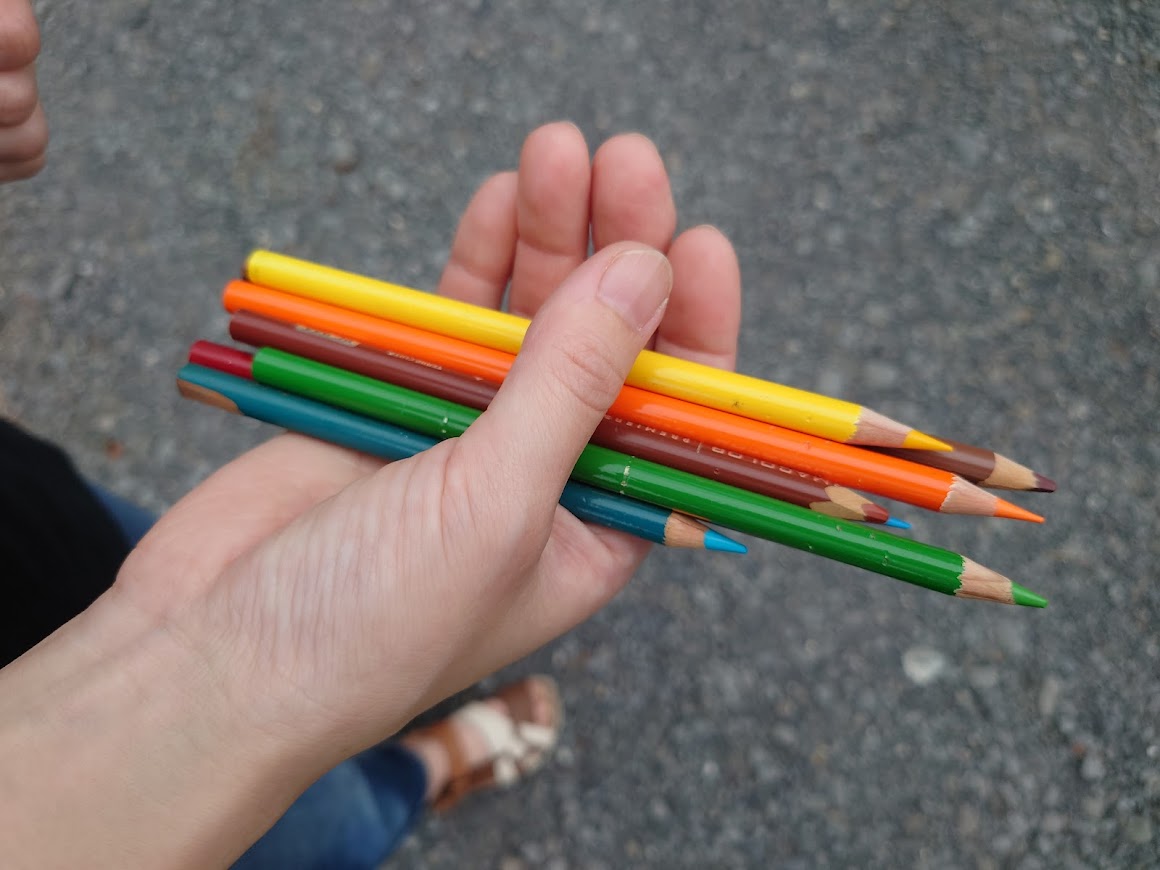 After graduating from university, you continued to draw to become an artist.What kind of creative activities were you involved in specifically?
Yasuko: For the first six years after my graduation, I worked part-time and painted in Utsunomiya, where my university was. I was pretty busy with my part-time job, so sometimes it was challenging to make time for my art. I would paint on my occasional days off or late at night after work.
Despite my busy schedule, I made sure to attend the Mashiko Pottery Market twice a year. The Pottery Market is a valuable place for aspiring artists to show their work. Before holding my own exhibitions, I continued to do small pieces and sell them on the street at the Mashiko Pottery Market.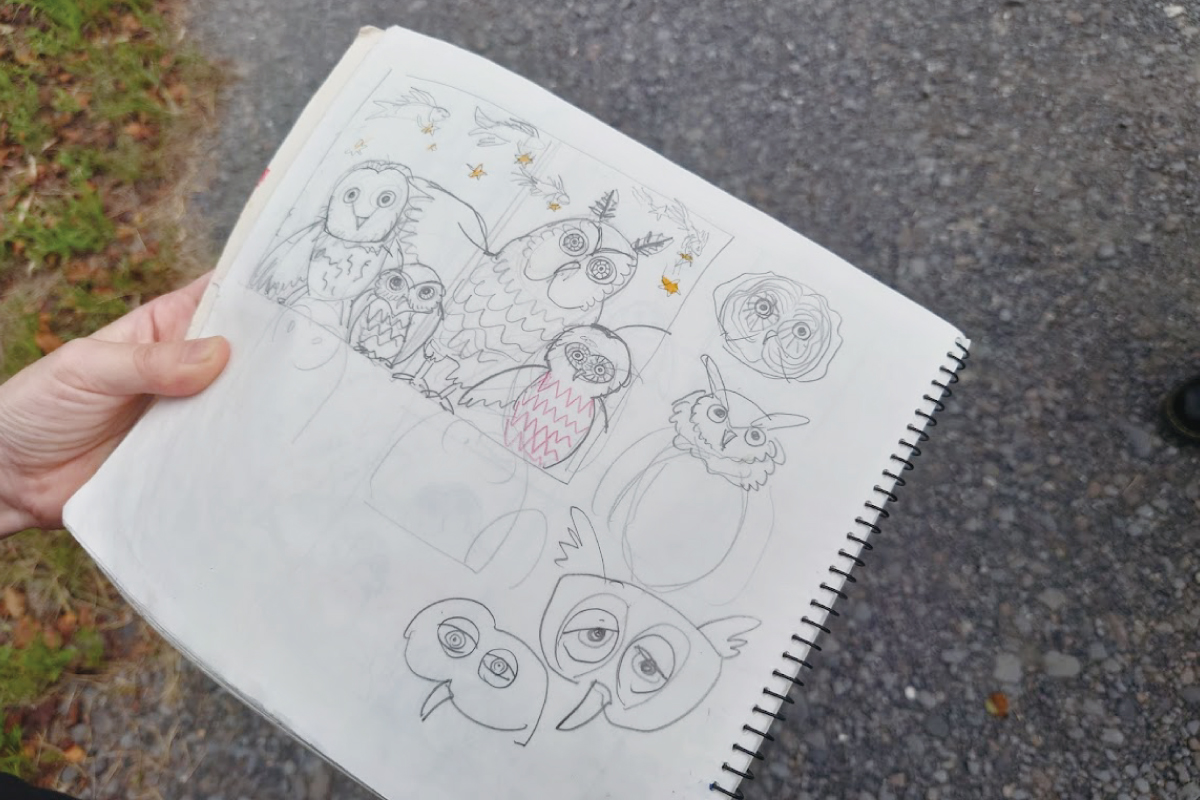 I heard that the Mashiko Pottery Market is very popular and many people visit every year.
Yasuko: The Pottery Market has become a fantastic art event, with more and more young people contributing to it. Potters and artists of various genres present their works, and it is an excellent opportunity to meet the artists directly. Everyone puts a lot of effort into showing their work, from constructing tents out of wood to displaying their work like they would in an actual store.
(*The Mashiko Pottery Market was canceled in the spring of 2021 to prevent the spread of the coronavirus. Instead, it will be held in the autumn of 2021 from October 30th to November 3rd)
You lived in Utsunomiya while exhibiting your works at the Mashiko Pottery Market, and then eventually came back to Mashiko?
Yasuko: When I was a kid, I have to admit that I was a little uncomfortable with Mashiko. I knew everyone there, and that there was more to the world. But when I came back as an artist, I realized that Mashiko is a unique town where many artists live. I also think that many of the artists who make things are a little strange. They are clumsy; they are off somehow… But in Mashiko, many artists are unique - I feel they can understand my story and that it is a place where it is easy to live and do things. It feels similar to when I was attending art school.
Furthermore, there are many exhibitions throughout the year and many places where artists can show their work. And the town supports them. I don't think there is any other town like it.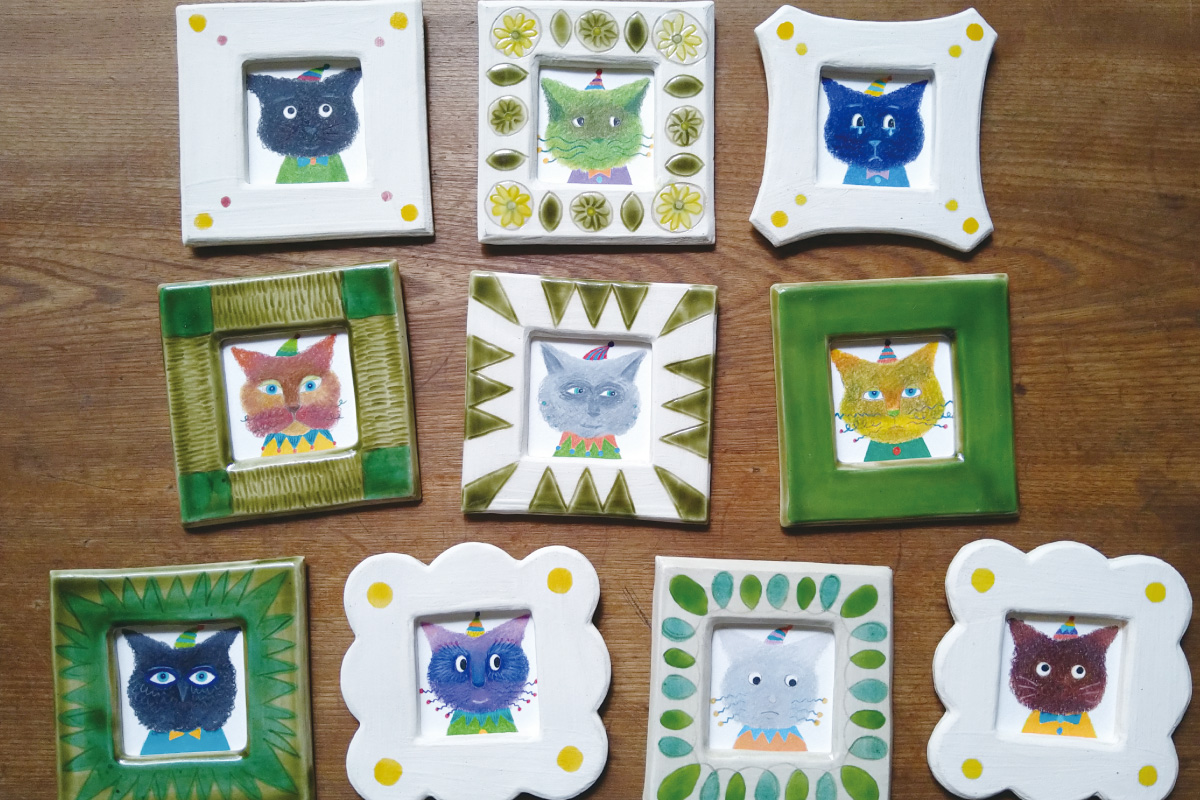 In the end, please tell us about your plans for your creative endeavors.
Yasuko: I hope to have more exhibitions in Mashiko in the future. I'd like to expand my activities from there, but for now, I'm just trying to do my best at what's in front of me one thing at a time. That's how I feel.
Not long ago, an acquaintance of mine in Mashiko invited me to paint on the town's glass with two other people as part of an art festival! I 'm not very good at drawing in front of an audience and was initially going to say no, but the person who invited me was nice, so I decided to give it a shot. I feel that the connections I have made with people in Mashiko are giving me more and more opportunities to expand my activities.
Since coming back to Mashiko, I have made connections with artists and many other people, and the number of people I like has increased. I've always loved living creatures, and they're all I've ever drawn. But lately, humans also appear in my works. Although in some different kind of form (laughs).
At the moment, I'm just starting to think about the concept of my work for my upcoming solo exhibition in Mashiko next year.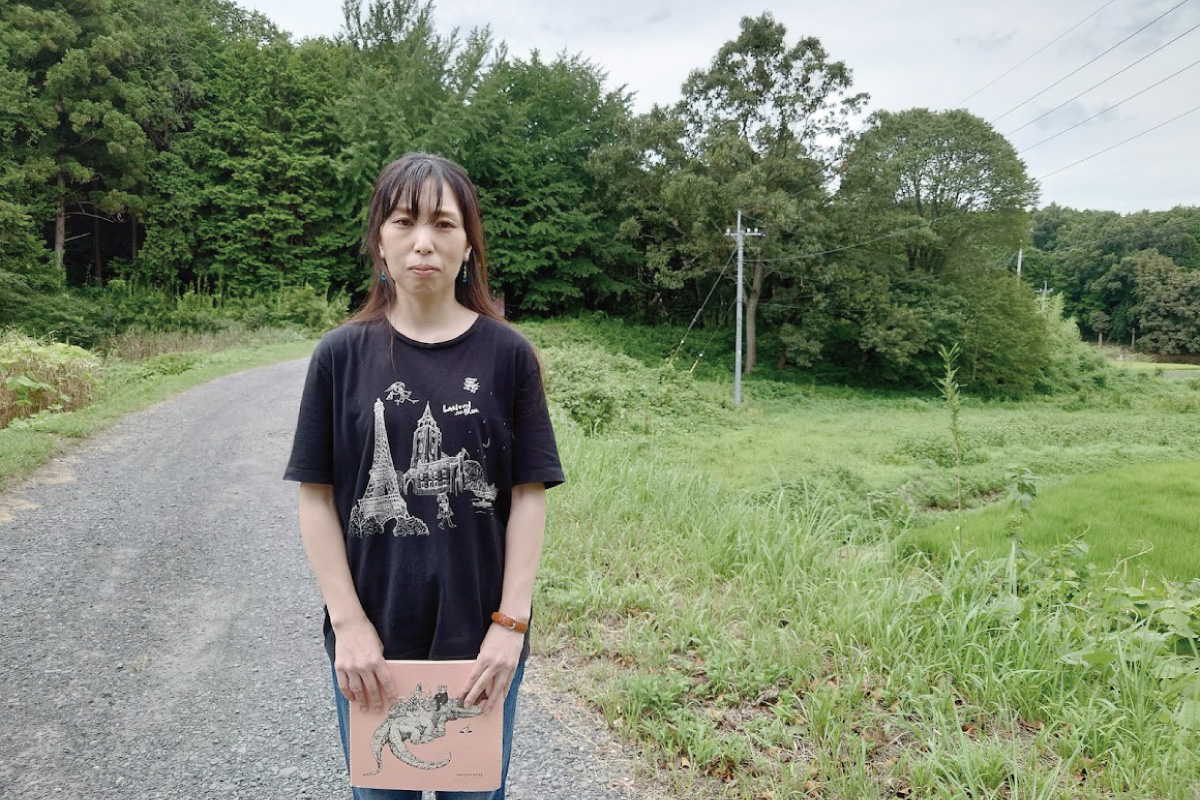 Profile
2004: Graduated from the Bunsei University of Arts, Japanese Painting Course
After graduating from university, she worked part-time while continuing her creative work, selling her small paintings at the Mashiko Pottery Market, an art event held twice a year in Mashiko.
2010: First participation in Motegi Satoyama Art Festa
2011: First parent-child exhibition at "Mashiko Clock" in Mashiko
2012: Three-person exhibition at the art gallery "Mejiro FURO"
2013: Three-person exhibition at CAFE KENZO SUN, Utsunomiya; three-person exhibition at Tokyu, Kichijoji
2014: Three-person exhibition at "Asobikraft" in Nasu
2015: First Prize, 41st Contemporary Children's Art Exhibition
2016: Art Gallery "Mejiro FURO", 3-artist exhibition
Participated in many other group exhibitions